"The world is full of magic things, patiently waiting for our sense to grow sharper" ~ W.B Yeats
I hope this letter finds you well. I am writing to you on a Sunday from Wells-Next-The-Sea, on a morning break from the final 4 days of my advanced coaching course.
Sometimes I am in awe of what has transpired in my life over these last two years.
Nearly 2 years ago I sold everything I owned to create a dream I had.
To follow my heart which I thought was pretty broken at the time.
I sold my house. I sold my van. And I sold my business. I left everything I knew well, behind me.
I didn't know where I was going until it found me.
After much searching, I walked myself to wellness.
I landed in a place I didn't know, which is aptly called Wells-Next-The-Sea.
I walked and walked and walked. I got a dog and walked some more.
I let go of all the self-imposed cages I'd had around myself for years – what I thought I should look like, what I should earn, what I should eat, the mask I wore. All of those little micro managers trying to keep me safe. They were doing the best they could but they weren't me. They were hiding my true self.
So here I am saying to you if you have a dream follow it. If you have a little voice inside of you encouraging you forward take that leap. You are the person behind the mask that you've been looking for.
Here I am with my wee @asharogue amongst the Stiffkey blue mud and open sands. Living the life I couldn't even have envisaged.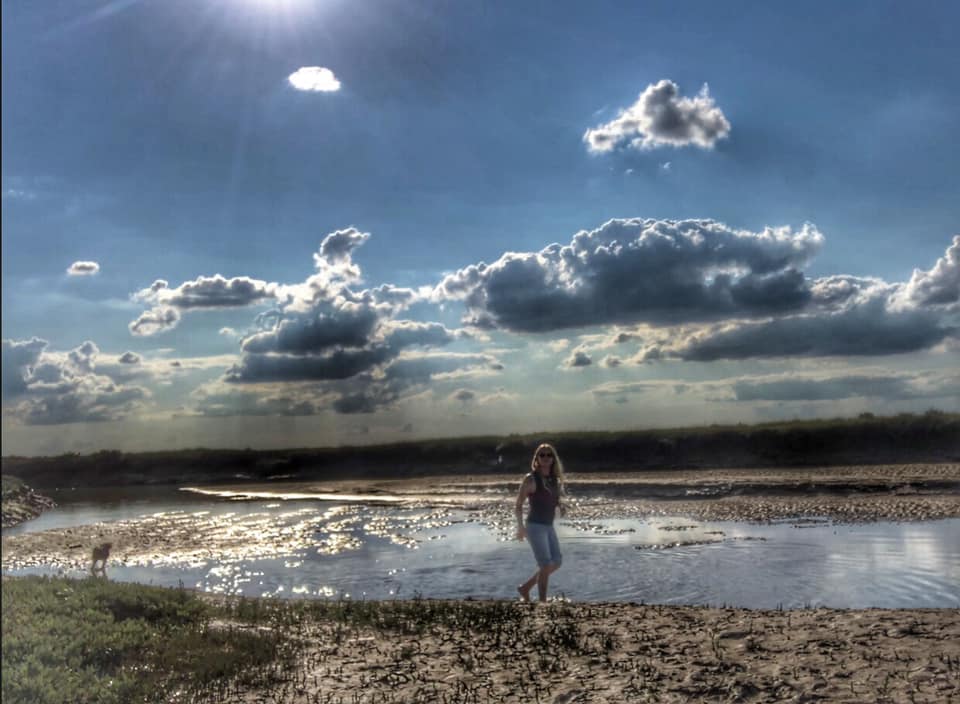 You never know what is waiting for you if you just take the first step ♥️
Find your own magic. It's there within you.
To help you get a sense of your True Self, I have uploaded a free slow flow yoga session for you to do at home – take your time with this, and enjoy if you are able to get some time for yourself.
This yoga session is taken from my free trial group called the "SheConnects Club" – We are in the 3rd and final free week before I leave for the Deep Nature Retreat I am running in Andalusia next Monday (I would LOVE to hear from you if you are free the week after next and fancy 5 days off grid with me deep in the Andalucian surroundings.)
The free trial group is open to anyone wanting to see what I am planning on creating once this goes live. At the moment there are many recipes, walking to wellness, a tonne of advice and research-based information for peri and menopausal women, a lovely group of 65 women, 4 interval fitness sessions, 3 yoga sessions (one of them is here for you), and my Body Image series of 5 videos.
It'll be free for this week remaining only.. All those who come into the trial group will be offered a reduced price if you choose to sign up to the monthly package.
If you would like to come into the trial group, please do hit reply, add me on FB and let me know so that I can invite you into the group.
If the more intimate exercise/ yoga/ nutrition/ holistic health group is not your thing, I thank you for reading this email 🙂 You may like my free community over on facey, simply called SheConnects, which you can find here 
With so much love today,
Charli x
Ps. If you are struggling with alcohol, body dysmorphia, food issues, anxiety, addictions of any kind, or anything at all, please do get in touch, book a free chat with me, and I will do my best to serve you.
There is always hope x
Ways to connect with me for free: