Last week's question of the week: HOW DO YOU COPE WITH SUDDEN CHANGE?
What if you didn't have to try to fix, control, or manage life?
What if change is just a part of life?
Have a listen as I speak to this question👇
In case you missed last week's email about my new series of live coaching demos that I am currently doing within my free FB community, the first one was last week.
The topic was: FEAR OF BEING IN THE WRONG
Here is a little snippet below👇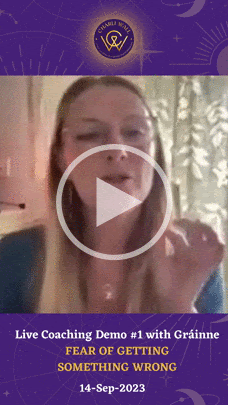 If you are not in my female-only community and would like to see the coaching, please just email me back, and I will send you a copy of the recording via a secret link.
Tomorrow, I will be doing the 2nd live coaching demo LIVE in my Community at 2 p.m. If you are a female, you can join me here, if not, or you aren't on FB, I will be giving you the opportunity to share via a secret link.
All my love,
Charli x
Ps. My Rewilding Retreat is coming up on the 16th – 21st of October. Two out of three caravans (single occupancy) have been snapped up, so there is one left and a couple of places in the shared bell tents.
Have a listen as Laura (who is returning this year) tells you about her experience👇
You can sign up for the Retreat Itinerary here, or book a call to chat with me about potentially coming along here